m_50213
m_50210
m_50212
m_50215
m_50220

Minerale injectiemateriaal
Bij de reparatie van scheuren met cementoplossing en cementlijm worden gebarsten bouwdelen door een met kracht sluitende injectie gerepareerd. De scheuren worden geïnjecteerd, zodat na het afronden van de injectieprocedure geen water meer kan binnendringen. Het injectiemateriaal vormt een bescherming tegen het binnendringen van agressieve stoffen en voorkomt corrosie van de wapening. Vanwege de krachtig sluitende verbinding van de scheurflanken wordt het draagvermogen van de bouwdelen weer hersteld.
Soorten nippels
Injectienippel (staal)
Slagnippel (kunststof)
Lijmnippel (kunststof)
Keilnippel (kunststof)
Vereisten waaraan injectienippels moeten voldoen
Compatibiliteit van de gebruikte materialen met injectiemateriaal
Betrouwbare montage in de bouwcomponent
Corrosiebestendigheid van de onderdelen die zich in de bouwcomponent bevinden
Afsluitmogelijkheid
Doorsnede aangepast aan de vloei-eigenschappen van de injectiestof
Geen vernauwing van de doorsnede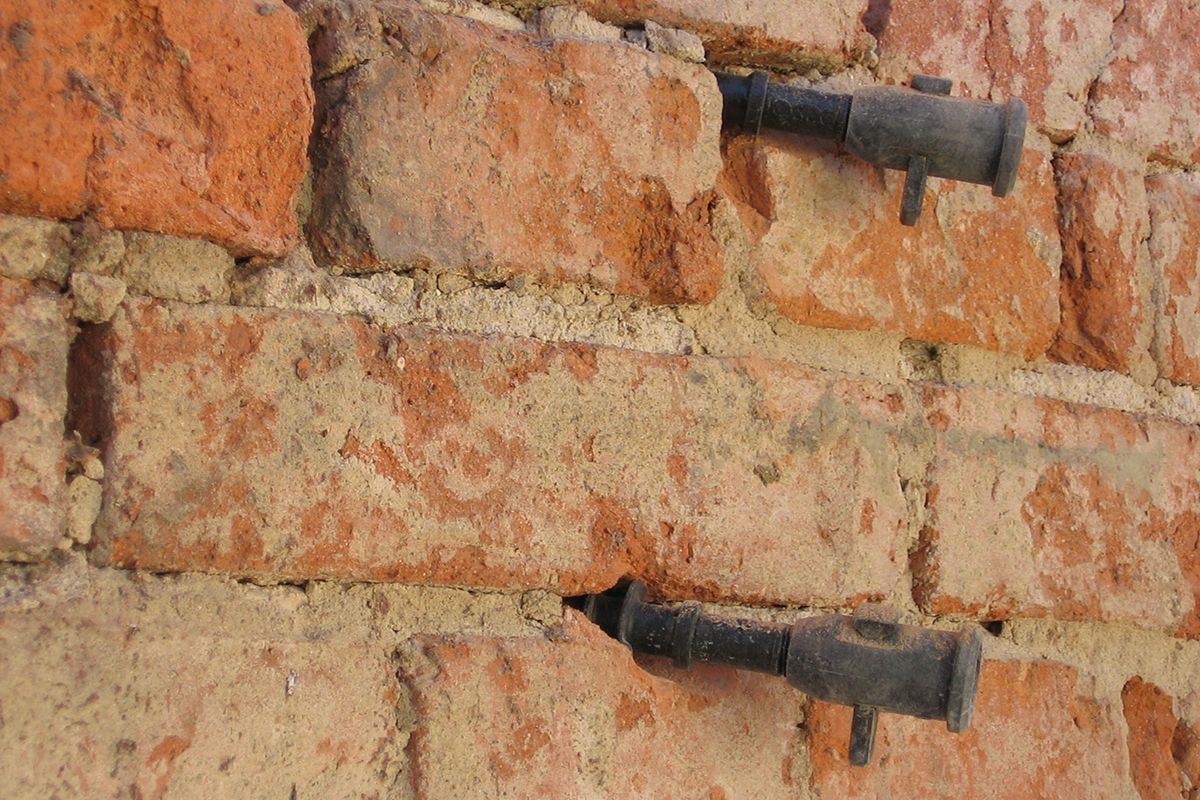 Geschikte vulmiddelen
Injectiemortel
Cementlijm
Cementoplossing
Constructievoorbeelden
Residentiële en industriële gebouwen
Metselwerk
Historische gebouwen
Civieltechnische werken
Ondergrondse en rioolbouw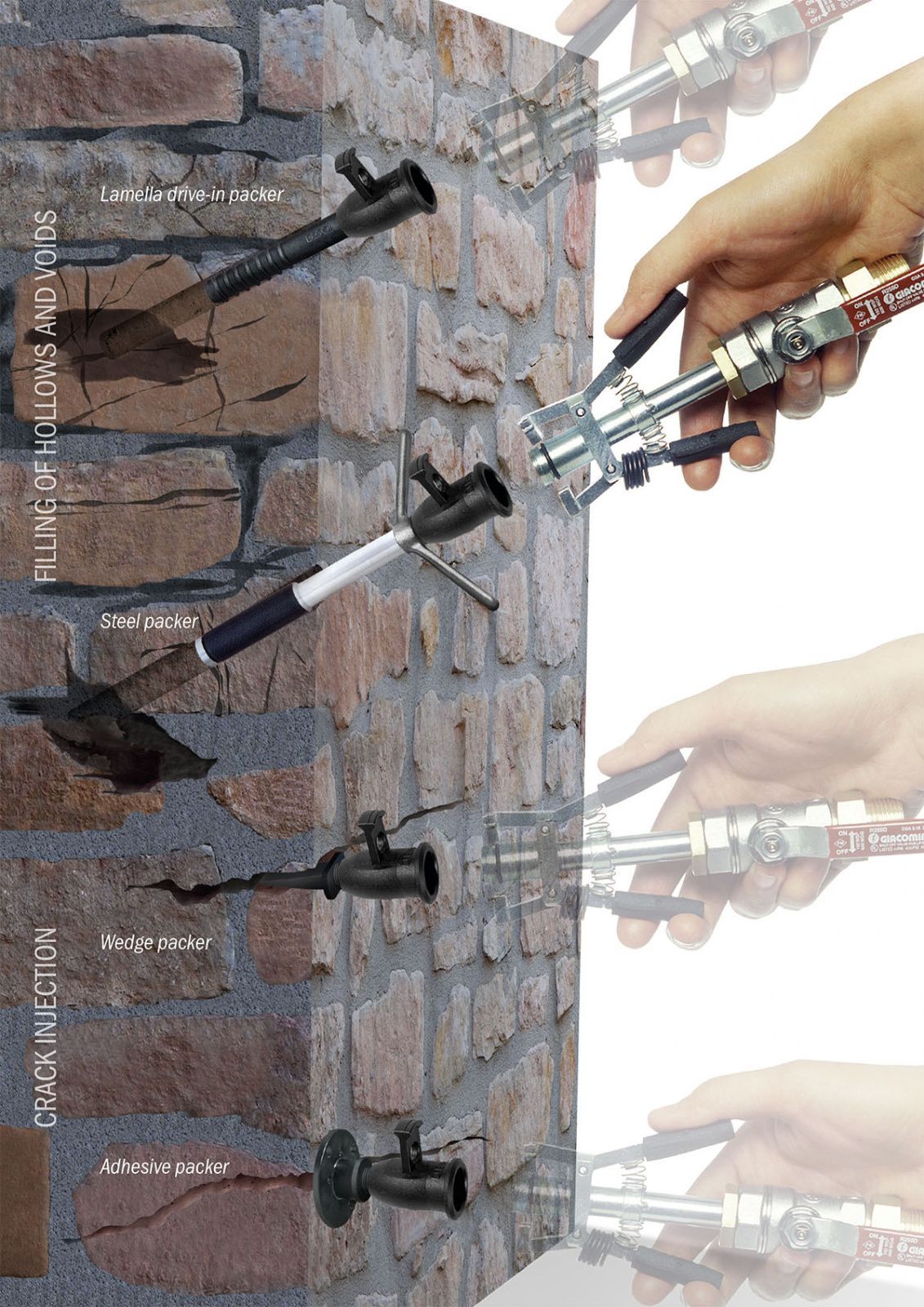 TOEPASSING VAN LIJMNIPPELS
De nippel wordt met een mengsel van polyurethaanhars of epoxyhars en eventueel een stelmiddel (ter verdikking) over de scheur geplakt. Er moet wel voor worden gezorgd dat de opening van de nippel direct boven de scheur ligt en dat het injectiekanaal van de nippel niet verstopt raakt. Kleefnippels worden voornamelijk gebruikt voor gebouwen, waarin om bouwkundige redenen (bijv. voorgespannen beton) niet kan worden geboord (meestal is bouwcomponentdikte = nippelafstand).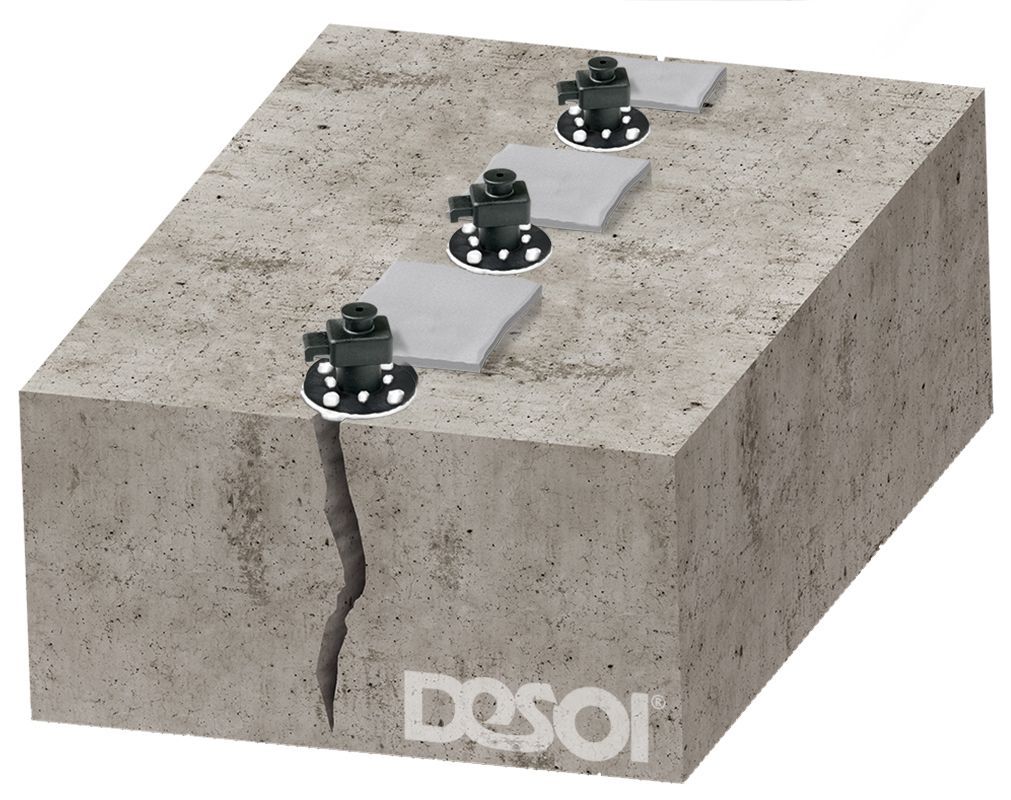 Aanwijzingen
Kleefnippel leverbaar als metalen of kunststofnippel
De lijmverbinding tussen nippel en oppervlak van de bouwcomponent is cruciaal
De bindingssterkte van het oppervlak en de eigenschappen van de lijm (afsluitend materiaal) hebben een aanzienlijke invloed op de mogelijke injectiedruk
Toepassingsgebieden
Bij droge bouwcomponenten
Bij bouwcomponenten met dichte wapening
Bij voorgespannen beton
Hogedrukinjecties tot max. 60 bar of lagedrukinjecties tot 10 bar
TOEPASSING VAN KEILNIPPELS
Keilnippels worden in scheuren, meestal vanaf 1 -2 mm breedte, gedreven, om vervolgens de scheur met injectiefstof te injecteren (onder druk zetten). Hierdoor kan het gebruikelijke boren voor boornippels achterwege blijven. Ze bestaan ​​uit metaal of kunststof.
Voordelen en gebruik
Tijdsbesparing door minder werkstappen bij het plaatsen van de nippel
De keilnippel wordt rechtstreeks de scheur ingeslagen, lastig boren in de bouwcomponenten is niet nodig.
De nippel kan na de injectie gemakkelijk worden verwijderd
De minimumscheurbreedte voor het gebruik van stalen keilnippels is 1,5 mm