SELECT DISTINCT shop_view_active_item.*
							FROM shop_item_has_category
							  INNER JOIN shop_view_active_item ON (
							    shop_view_active_item.company = shop_item_has_category.company AND 
							    shop_view_active_item.shop_code = shop_item_has_category.shop_code AND 
							    shop_view_active_item.language_code = shop_item_has_category.language_code AND 
                                    ( 
                                      shop_item_has_category.item_no = shop_view_active_item.item_no 
                                    )
							    )
							  
							  WHERE (shop_item_has_category.category_line_no = 99375 OR shop_item_has_category.category_line_no = 99375 )
							  AND shop_view_active_item.language_code = 'ENU'
							  AND shop_view_active_item.company = 'DESOI'
							  AND shop_view_active_item.shop_code = 'B2B'
							  AND shop_item_has_category.company = 'DESOI'
							  AND shop_item_has_category.shop_code = 'B2B'
							  AND shop_item_has_category.language_code = 'ENU'
							  AND shop_item_has_category.category_shop_code = 'B2B'
							 

SCHERMINJECTIES (GELINJECTIE)
Een in de praktijk bewezen achteraf aan te brengen afdichting in de tunnelbouw, voor civieltechnische kunstwerken, residentiële en industriële gebouwen, parkeergarages, grond- en rioolbouw en waterbouw. De scherminjectie met acrylaatgel (hydrostructuurhars) zorgt voor een afdichting, van binnen naar buiten, van met de aarde in aanraking komende of door de aarde bedekte constructies, evenals voor het vullen van doorgangen, zoals scheuren, ontbrekende plekken, holle ruimten en voegen. Geschikte injectietechnieken en injectiepakkingen evenals een door een vakkundig planner opgesteld saneringsplan zijn een waarborg voor een goede afdichting van de constructie.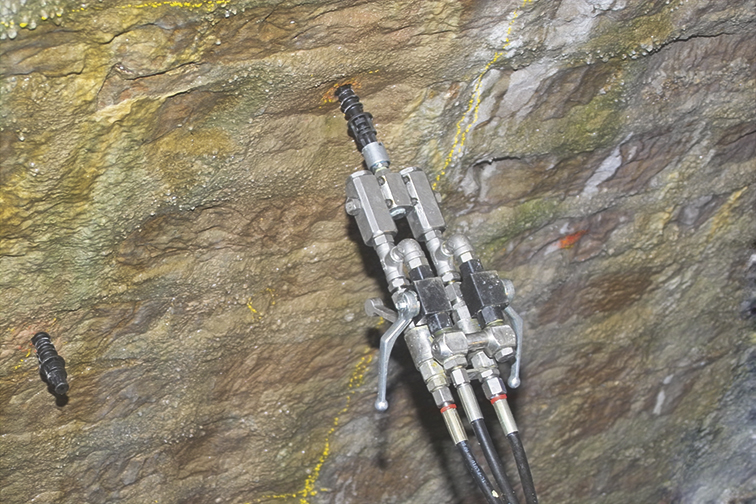 Vereisten waaraan injectiepakkingen moeten voldoen
Betrouwbare bevestiging in het bouwelement bij de vereiste injectiedrukken
Corrosiebestendigheid van de in het bouwelement aanwezige delen
Afsluitbaar
Aan de vereiste te transporteren hoeveelheid en stroomeigenschappen van het injectiemateriaal aangepaste doorsnede
Terugslapkleppen met een lage openingsdruk
Injectiepakkingen
Boorpakking (stalen pakking)
Slagpakking (kunststof pakking)

Uit te voeren stappen
Rasterachtige boorgaten doorboren de totale constructie van binnen naar buiten volgens een vastgelegd en op het object aangepast boorschema.
In de boorgaten worden de injectiepakkingen geplaatst en geïnjecteerd.
Het gebouw wordt door aarde/zand omgeven. Het gelscherm dringt door in de poriënstructuur en vormt een mengsel dat voorkomt dat water de constructie of de dilatatievoegen en dergelijke kan binnendringen.
Toepassingen van later aangebrachte afdichtingen
Scherminjectie in de bouwgrond
Injectie van dilatatievoegen
Injectie van tussenruimtes tussen constructies
Het vloeibare injectiemateriaal met lage viscositeit verdringt het aanwezige water en vormt samen met de omringende bouwgrond een elastische afdichting, respectievelijk elastisch injectielichaam.
Constructievoorbeelden
Tunnelbouw
Civieltechnische kunstwerken
Residentiële en industriële gebouwen (kelders, souterrains)
Parkeergarages
Civiele techniek en riolering (rioolwaterinstallaties, metro)
Waterbouw (sluizen, compartimenten, gaanderijen)