SELECT DISTINCT shop_view_active_item.*
							FROM shop_item_has_category
							  INNER JOIN shop_view_active_item ON (
							    shop_view_active_item.company = shop_item_has_category.company AND 
							    shop_view_active_item.shop_code = shop_item_has_category.shop_code AND 
							    shop_view_active_item.language_code = shop_item_has_category.language_code AND 
                                    ( 
                                      shop_item_has_category.item_no = shop_view_active_item.item_no 
                                    )
							    )
							  
							  WHERE (shop_item_has_category.category_line_no = 100000 OR shop_item_has_category.category_line_no = 100000 )
							  AND shop_view_active_item.language_code = 'ENU'
							  AND shop_view_active_item.company = 'DESOI'
							  AND shop_view_active_item.shop_code = 'B2B'
							  AND shop_item_has_category.company = 'DESOI'
							  AND shop_item_has_category.shop_code = 'B2B'
							  AND shop_item_has_category.language_code = 'ENU'
							  AND shop_item_has_category.category_shop_code = 'B2B'
							 

OPPERVLAKTE-INJECTIE
Via oppervlakte-injectie kunnen op de aarde staande ondichte bouwelementen achteraf van binnen naar buiten worden afgedicht. Afhankelijk van de toestand van de bouwmaterialen en de poriënstructuur, wordt een continue afdichtvlak in het bouwelement (metselwerk) gecreëerd. Door het injecteren van geschikte materialen, zoals gels of harsen met een lage viscositeit, worden de transportroutes waar het water langs loopt, afgedicht.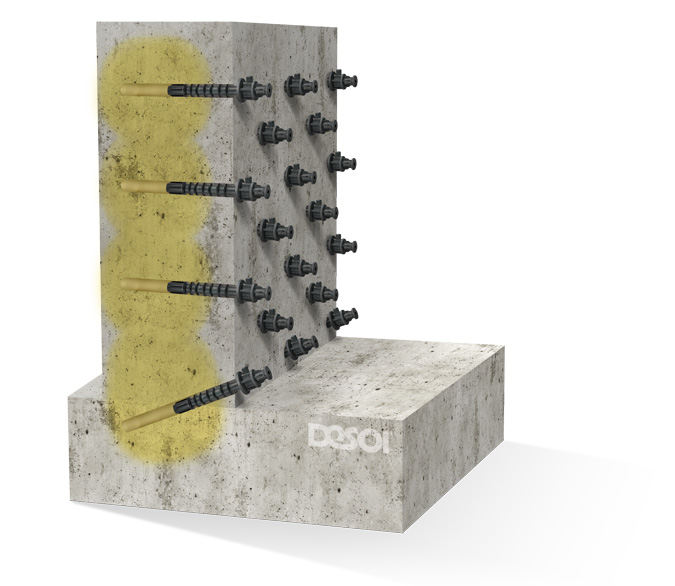 Vereisten waaraan injectiepakkingen moeten voldoen
Betrouwbare bevestiging in het bouwelement bij de vereiste injectiedrukken
Corrosiebestendigheid van de in het bouwelement aanwezige delen
Afsluitbaar
Aan de vereiste te transporteren hoeveelheid en stroomeigenschappen van het injectiemateriaal aangepaste doorsnede
Terugslapkleppen met een lage openingsdruk
Injectiepakkingen
Boorpakking (stalen pakking)
Slagpakking (kunststof pakking)

Uit te voeren stappen
Het gatenpatroon en boorgatdiepte zijn afhankelijk van de geometrie van de constructie en worden door een deskundig planner bepaald.
Het bouwelement wordt niet helemaal doorboord, maar alleen zo dicht mogelijk aan de buitenzijde van het bouwelement.
Breng in het ondichte bouwelement van binnen naar buiten, tot ongeveer 2/3 van de dikte van het bouwelement, boorkanalen aan in een lichte hellingshoek.
In de boorgaten worden de injectiepakkingen geplaatst en geïnjecteerd.
Verdere toepassingsgebieden voor latere afdichting
Sluierinjectie in de bouwgrond
Injectie van bewegingsvoegen
Injectie van gebouwtussenruimtes
Het laag viscose, vloeibare injectiemateriaal verdringt het aanwezige water en vormt samen met de omliggende bouwgrond een elastische afdichting of een elastisch injectieorgaan.
Constructievoorbeelden
Residentiële en industriële gebouwen (kelders, souterrains)
Civiele techniek en riolering (rioolwaterinstallaties, metro)
Waterbouw (sluizen, compartimenten, gaanderijen)
Tunnelbouw